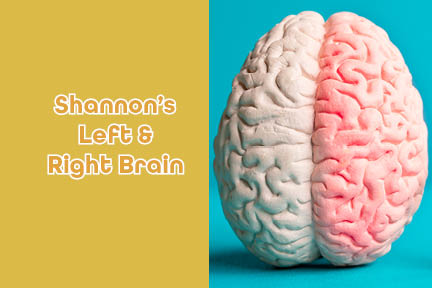 You know when you take ALLLLL the personality tests to find out who. you. are. Well, I am pretty sure I've taken them all. Myers-Briggs, DiSC, Kolbe, Caliper, StrengthsFinder, True Colors, even the Four Animals Assessment! Every one of these says the same thing: I am equally right- and left-brained, creative and process-driven. I LOVE some organized chaos!
I've always been good at "creative." Ever since I can remember I've loved craft projects and playing clarinet/piano/music and museums and ideation. I easily come up with ideas for activities and events when asked for them. The right-brained part of me is ON POINT.
But what I believe makes me a bit of a unicorn is, my left brain is equally engaged! I blame my dad. He hasn't met an organization system he doesn't want to try. I love to figure out processes, efficiencies, best practices, and overall organization of all the things. If there's mess and disorganization, I can muck through it, put a process or plan in place to make it work better, and work with others to iterate it to perfection for that group fo people.
And my favorite plans are those that help retain and thank members, clients, customers, donors, and employees. I love figuring out the best ways to build the most easy-to-implement and sincerely thoughtful stewardship plans for the non-profits I've worked for over the years.
For example, I worked at the YMCA for many years as a Membership and Marketing Director. In Year 1, it quickly became apparent we needed to make a plan to retain members, specifically Family memberships. They were our most profitable money source and our biggest area for improvement. So, I created a Membership Retention and Marketing plan that after only 2 years, retained almost 65% of our Family memberships! That was HUGE. Before, we'd only retained year-over-year, at best, 40%.
What was the secret!
Paying attention to what the members said they wanted…and then doing the best we could to implement that.
Thanking them and incentivizing them to come into the building more frequently.
And finally, keeping them in-the-loop through consistent communications.
I would love to help you and your small business do this as well. Go to the Contact Us page and fill out the very short form. We can then get started on increasing your retention rates, too.
Until next time,

https://getfavorable.com/wp-content/uploads/right-left-brain.jpg
288
432
Shannon Hanson
http://getfavorable.com/wp-content/uploads/Favorable-Logo-With-Symbol-RGB-White-Text.png
Shannon Hanson
2021-11-27 12:52:16
2021-11-23 21:53:24
Organizing Chaos And Shannon's Brain